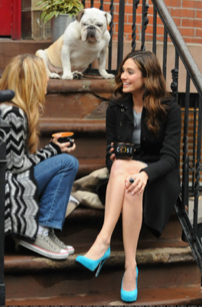 In the days before Internet and big screen TVs and all our other distractions, many people used to spend evenings sitting on their front steps. You enjoyed some nice evening weather, and got to say 'hi' to all your neighbors as they came home from work or went out running errands.
Flash forward to the present, and you'll see very few stoop sitters, and we often don't even know the people living in our own building, never mind those living next door to us.
We hope to start reversing this trend. We're bringing back this tradition by holding stop nights in the summers.
We take a few nights each summer and focus on one of our neighborhood streets. On elf our streets will host the Stoop Night. Residents of that street will come out and hang out on their stoops. Many neighbors will be 'host stoops' and provide some snacks and beverages to passers by.
Everyone in Eight Streets is encouraged to visit the host street and say 'hi' to your neighbors. Stop by and chat. have a nosh. Just get out of the house and have a great evening with your neighbors!!
Keep an eye on our
Calendar
and
Facebook Page
for the next Stoop Night!